Greg Stolze's supervillain roleplaying game
Better Angels
is
available now in PDF
and is coming soon in
full-color hardcover
. We want the world to hear about your games! We want the world to hear about them
bad
. In fact, we'll hook you up with gifts if you make it happen.
Here's the score.
Run a

Better Angels

game with a few friends.
Or strangers. Doesn't matter, as long as they have a good time. It can be in person at your house, at a game store, on Google Hangouts, whatever works.
Write up a brief report on what went down.
Include character names, player first names if they say they're cool with that, the location and date, a brief summary of what happened in play, and what the players had to say about it afterward.
If the players agree to it, take a couple of photos of them with their character sheets.
It's even better if you can line them up so it's each Screwtape to the left of each villain!
Even better still, record a video getting the players to talk about the game.
Get them to talk about playing as villain and playing as demon, and what they liked about it. Edit it as best you can and put it on YouTube. It doesn't have to be a long video at all. Again, make sure they all agree to it first.
Put the report with its photos or video online somewhere public.
It can be your own blog or a G+ or Reddit post, or you can get a login at arcdream.com and post it here, whatever. Just make sure it's available to anyone without having to log in to see it.
Send an email with links to shane.ivey@gmail.com.
If we like what we see (and I'm sure we will), we'll thank you with $20 in credit at the Arc Dream online store or $20 worth of Arc Dream Publishing PDFs from RPGNow, your pick. If your post is awesome and includes a good video we'll bump the gift up to $40.
Make it happen, Internet. Show us your EEEEVIL. And make it look good.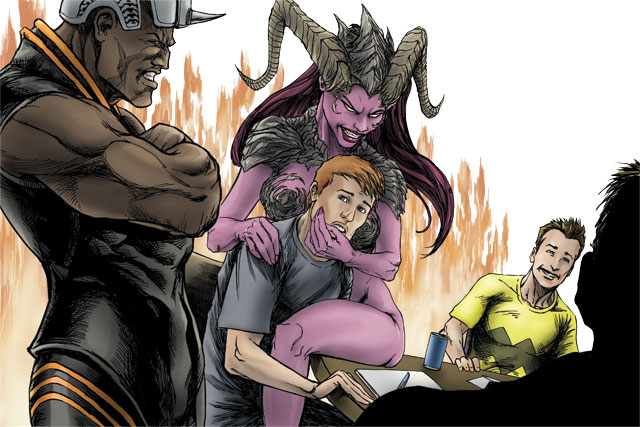 Caveat: Arc Dream Publishing reserves the right to cancel or revise this sweet deal in whole or in part, for individuals or for everybody, at any time. Sorry. Unlike some demons, we have to cover our asses.